After Welsh success with Cwis Bob Dydd, a Catalan launch: Un Cop Al Dia
CodeSyntax launched Egunean Behin, a Basque quiz app, 4 years ago and it's still a success (50.000 daily players). Last year, we developed the Welsh version Cwis Bob Dydd, which has just completed a 16-week run with great acceptance. Now it's the turn of a 3rd language version: Un Cop Al Dia (catalan).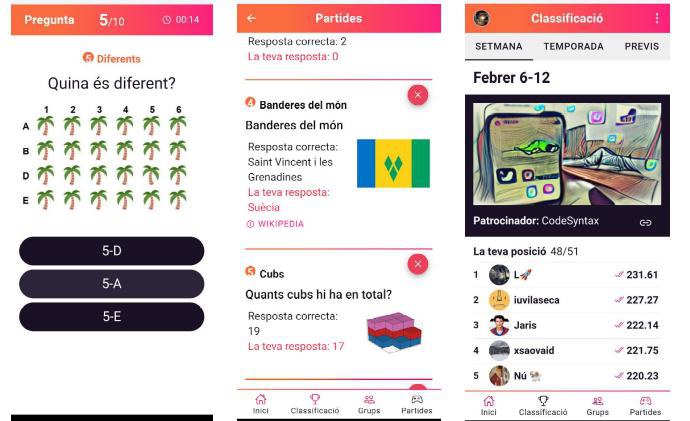 Egunean Behin was born in 2019: it's a daily 10-question trivia game. The Welsh version of the game, Cwis Bob Dydd, was launched in October 2022. In was planned for 12 weeks, but the commisisioner of the project, Welsh-language broadcaster S4C, requested an extension of 4 weeks. Until last sunday, when the season ended, 7,000 users have played Cwis Bob Dydd and 4C has made a positive balance (see the news). We at CodeSyntax are already preparing a possible second season of the game, together with the Welsh production company Tinint.
The Catalan competition will begin next Monday, February 27th under the name Un Cop Al Dia. It will be a 10-week trial season, in which various Catalan organizations and companies will sponsor weekly prizes, as well as the overall season big prizes provided by the Tourism Bureau of Donostia San Sebastián, a beautiful Basque city.
The design of Un Cop Al Dia has a different color palette compared with that of Egunean Behin but the game follows the same mechanics: 10 questions a day (each player always receives a different mix), weekly and seasonal rankings, and the option to play in groups that all users can create. As for the content, 50% of it is related to Catalan culture. All localised in Catalan, of course.
You can install Un Cop Al Dia now, and start playing on next Monday:
Check the website Uncopaldia.cat and the Twitter account @uncopaldia
You may be interested in these other articles